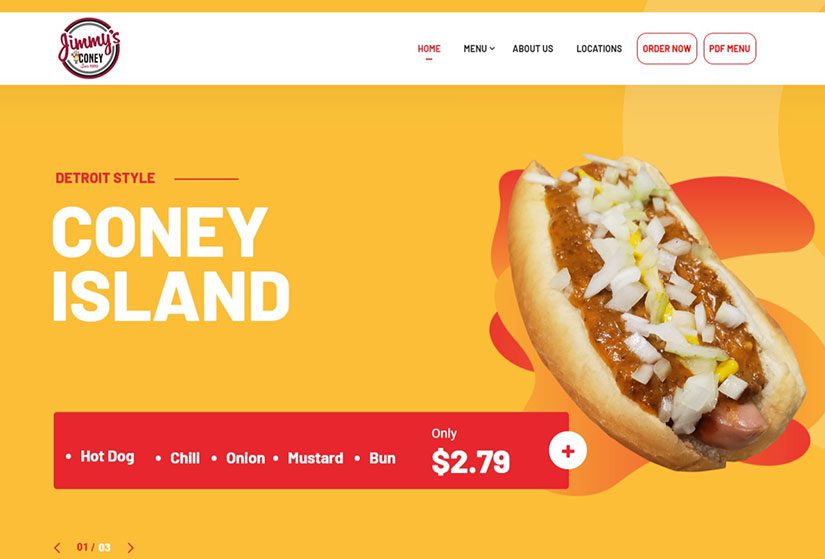 We are very excited to announce the launch of our newly designed Jimmy's Coney website. After six longs months of hard work and dedication from our developer and marketing partner, Aqaba Technologies, we are delighted to officially announce the launch on April 1st, 2021. We wanted to make the new website more mobile friendly, faster, easier to navigate, online ordering for both curbside and deliveries but more importantly user-friendly for our patrons. Visit us at www.jimmysconey.com
Aqaba Technologies is a design and innovation leader, it's important for us to make information regarding their thought leadership, services and trends easily accessible for our business. We found them to be quite knowledgeable and easy to work with being that we are techno neophytes. A major investment was made for the most accurate, up-to-date technology and expertise in the field of Design Thinking, Product Development and Innovation. We also work with them transforming our business model by weaning away from traditional advertising and focusing 100% on digital marketing. Our dedicated team of digital marketing specialists at Aqaba Technologies has really made an impact on our bottom line.
Our goal with the new website is to provide our visitors an easier way to experience a Pandemic friendly solution keeping our three locations thriving and to place orders electronically by directly integrated with our Point-Of-Sale software. The new website gives better access to receive orders seamlessly from website to our kitchen without having to retool our order taking process. We took the time to reinvest in a long term solution that will carry us through our most challenging time of our business.
Our current and prospective customer base will find benefit from the ease and use of our website.
Amongst the new features the site contains integrated social media buttons for Facebook and LinkedIn to foster improved communication with the clients. We will be constantly updating our content with helpful information, cutting edge thought leadership, company announcements and customer experiences in the Blog. You can also us on Facebook for online specials you can only find on Facebook.
We would also like to thank our amazing partner at Aqaba Technologies who dedicated their time and energy to produce our website, who have been a fantastic partner for us – we wholeheartedly recommend them!
For any questions, suggestions, feedback or comments, please look us up on Facebook.
Fraser: https://www.facebook.com/JimmysConeyGrillFraser
Sterling Heights: https://www.facebook.com/JimmysConeyGrillSH
Saint Clair Shores: https://www.facebook.com/JimmysConeyGrillSCS
Thank You!
Jimmy Tingas
CEO & Co-Founder
Jimmy's Coney